Our team at Harbour Energy work together every day to solve problems and come up with improved and more effective ways to find and produce hydrocarbons in an environmentally responsible manner.
We are focusing on making use of technologies, whether internally or externally sourced, to give us a competitive advantage in achieving organic production growth. We do this in several ways – collaborating across teams and throughout our businesses, building strong technical competencies, recruiting and developing highly talented people, understanding and managing risks, engaging and collaborating with technology partners and making sound investments.
Innovation in action
Our Decommissioning team at Harbour Energy has been using an innovative solution to carry out survey operations in the southern North Sea.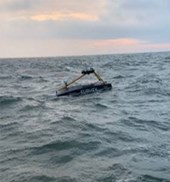 Survey work in this area can be difficult at the best of the times with varying sea conditions, but winter weather makes this even more complex. The team has been testing the use of an un-crewed surface vessel (USV) to acquire the data needed for planning and executing upcoming dive support-vessel/construction and support-vessel operations. The information being acquired is adding to our long-term subsea surveillance strategy. This approach has not only allowed us to collate data more efficiently, it has also reduced the risk to personnel and the environment. It uses 0.1 percent of the CO2 emissions of a conventional vessel and does not need additional personnel to be involved offshore.
The use of aerial drones across our operations is a regular feature. They have proven to be a particularly useful innovation for oil and gas inspection, none more so than for over-the-side work and for monitoring our unmanned platforms. Deploying drones for these tasks reduces the safety risk to personnel as well as costs.
With many of our southern North Sea platforms being decommissioned, drones have been particularly useful in maintaining close visual examination of these unmanned facilities. If we need to do an inspection, we can go out with a small vessel and a drone pilot and take a look without having to put people on the platform.
A drone equipped with a modern, high-resolution camera can get within three to five metres of an object to conduct a close visual inspection. This makes it easy to inspect areas like the flare tip on a platform.
As drone technology evolves, our team continues to look for different ways to use the equipment on a day-to-day basis. We have been working with a company developing technology to allow automated classification of corrosion scale, removal of the scale and completing coating repairs. We have also partnered with another operator and the Aberdeen Oil & Gas Technology Centre (OGTC) to measure methane emissions from our assets using drones, with the goal to identify, hunt and remove any fugitive emissions.
Throughout our long-term plugging and abandonment (P&A) campaign in the southern North Sea, we have abandoned wells using drilling rig and rig-less solutions.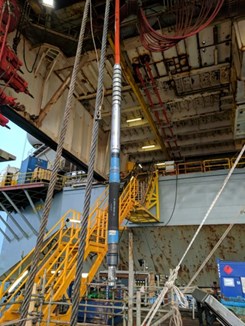 The campaign initially used a mix of mechanical casing cutters and abrasive cutting depending on the well architecture - a style of equipment that has been in operation for over 40 years.
It was taking between two and nine days per well to recover casings, with the average time being 3.5 days. Realising this inefficiency, our team engaged with vendors to trial innovative laser technology for conductor cutting.
In a UK first, this technology was deployed on a drilling rig at our Ganymede ZD platform to cut and recover casing strings on two wells. This was successfully completed in 2.77 days and 2.43 days. With modifications to improve the strength and durability for offshore use, this innovative technology has the potential to cut a significant amount of time and costs from the conductor cutting and retrieval process.
Virtual reality tools have been successfully adopted by Harbour Energy to help reinforce major accident hazard training onboard our offshore platforms. After a successful trial of this technology on the Judy platform, the aim is to roll this out across other parts of our business.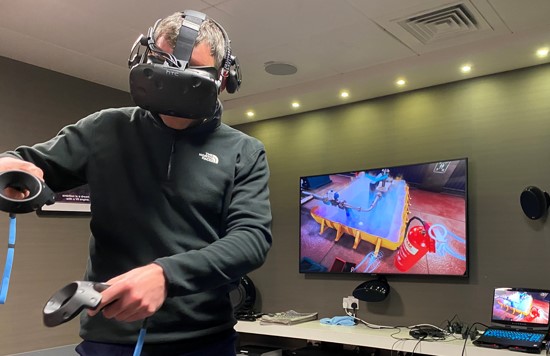 To maximise innovative asset-management efficiencies, we have been working with a vendor to digitise our platforms. Our first deployment was on our AELE hub. This is now being extended to more of our offshore UK assets to generate execution efficiencies and performance improvements.
From enhanced visualisation and planning tools to remote inspection and automated engineering, this fully integrated solution will allow us to reduce cost and risk. It will also revolutionise how we manage our assets in the future.