We provide social-investment contributions and charitable support to organisations and other good causes in line with our strategy and core values.
We aim to provide donations to the local communities where we operate, in the fields of education, affordable energy, health and safety, and the environment. We encourage employee engagement in support of local communities including through volunteering activities. Wherever possible, our social-investment contributions are consistent with our charitable-giving aims.
In 2021, we provided a total of $1.1 million in charitable donations and social investments. While COVID-19 restrictions limited our ability to actively engage in many community and volunteer events, we still managed to participate in some activities, albeit remotely.
In Indonesia, we handed over a recreational facility to the community in Tanjung Pinang, Riau Islands Province. Built with the aim of channelling local talent, it has an open stage facility, a jogging track, a children's playground, games area, parking and other facilities.
Called the Tun Telani Oil and Gas Park and located in Dompak Island, it covers an area of 8,285 m2. The park's facilities are a focal point where local families can meet and come together.
In Indonesia, we are supporting youth education in the local communities nearest to our shore base. For our activities in Andaman II, our operations will mainly be located in the Krueng Gekeuh, Lhokseumawe region in Aceh. The nearest villages are Blang Naleung Maumeh and Tamboh Baroh.
We have set up a scholarship for 2021–22 to support students from these areas. The programme is benefiting 28 students enabling them to continue with their higher education.
Our team in Vietnam co-ordinate and oversee a range of diverse activities in the local community. Their aims are to:
Provide engagement, support and activities related to our goals
Promote physical and mental health for staff (sports activities/challenges, #workfromhome platform etc)
Work hard, play harder – organise events which help to strengthen team spirit

Some of the projects we supported in 2021 include:
Heartbeat Vietnam, which has given 7,804 children to date a second chance at life
Christine Noble Children's Foundation's educational and healthcare centre for disadvantaged and disabled children
Chevening Vietnam's career mentoring programme for university students
Gaia Nature Conservation, empowering and pioneering the implementation of solutions to conserve nature and protect the environment
Harbour is one of the sponsors of the STEM in the Pipeline senior schools programme, run by the charity TechFest in Aberdeen. As part of the programme, we supply mentors to local schools who compete in teams on a variety of oil and gas challenges.
Harbour is a sponsor of The River Dee Trust's education programme. Based in
Aberdeenshire in Scotland, the scheme focuses on connecting young people to
the River Dee through fun and hands on activities linked to the Curriculum
for Excellence.
The launch of the programme was made difficult by the COVID-19 lockdown. However, their education officer still developed and held 85 virtual classes throughout the year.
Once lockdown rules eased and schools opened further, they carried out 73 playground visits for outdoor learning and six river-bank visits. Overall, the Trust achieved 164 visits in 2021, working with over 2,200 children.
The River Dee Trust is a community based charitable company set up in 1998 to improve our knowledge of the ecology and associated fish stocks of the River Dee, so it can achieve practical improvements and restoration of the river and the wildlife it supports.
It also seeks to provide educational information to schools, organisations and individuals living in Northeast of Scotland. The River Dee is one of the most famous salmon rivers in the world. More information: www.riverdee.org.uk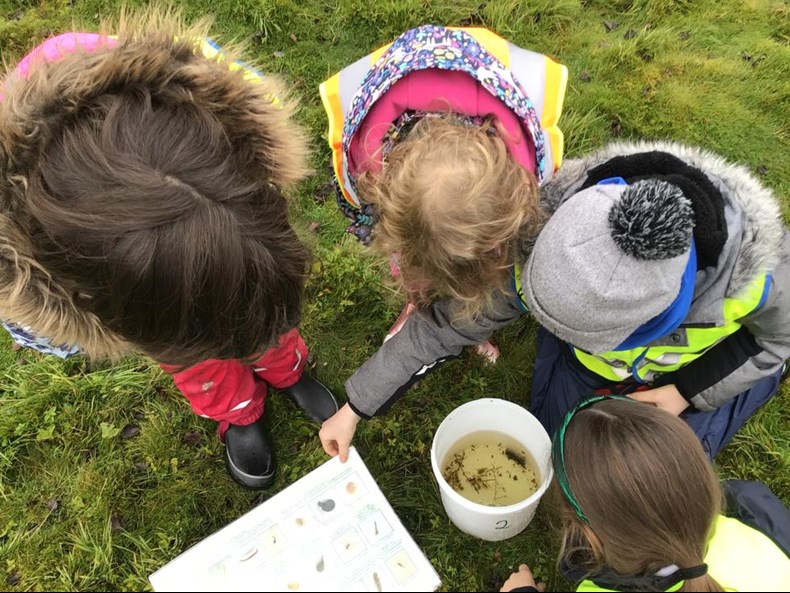 Harbour Energy is sponsor of the 5k event at Run Balmoral, where more than 5,000 people take part in a varied programme of races on the Balmoral Estate in Royal Deeside, Scotland over a weekend in April.
The wellbeing of our people is important to us and we encourage our staff to keep fit and participate in the event with many running in aid of local charities.
More information: www.runbalmoral.com
Watch our video compilation from Balmoral Run 2022.