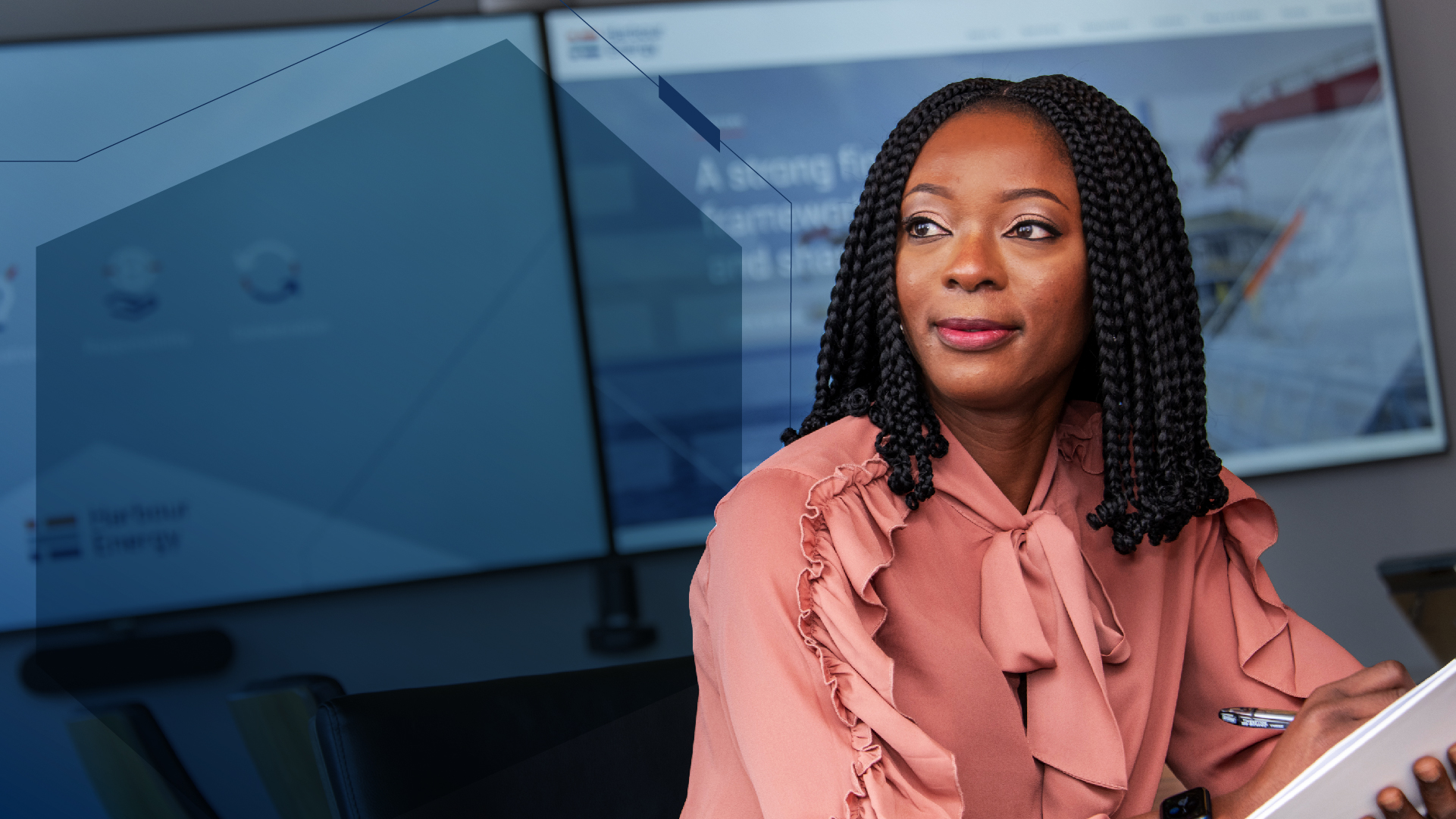 Mavis Anagboso
Global Head of Diversity, Equity and Inclusion
After 20 years of working across the public and private sector, Mavis Anagboso's recent appointment at Harbour feels like a homecoming to a role that plays firmly to her strengths.
Growing up in the oil city of Warri in Nigeria where her dad worked for Shell, Mavis has fond memories of her childhood in the eighties in a very close-knit family. Like a lot of youngsters, she dreamed of being an actor when she grew up, something that has stayed with her to this day where she is part of a keen amateur theatre group and has even been an extra in Dr Who.
Although acting was her first love, Mavis studied Economics and Statistics at the University of Benin, and then an MSc in International Economics, Banking and Finance at Cardiff University. "I started my career in the civil service and I'm a recovering economist," she explains. "I enjoyed those days writing, carrying out macroeconomic research and publishing economic analysis. It was a great role for my first proper job."
Since then, Mavis has worked in several disciplines including petroleum economics, supply chain, client relations and now human resources. The draw of being responsible for setting the strategic direction for diversity, equity and inclusion (DEI) at Harbour Energy has now brought her firmly back to the fold within the oil and gas industry.
To Mavis, DEI is about three things – recognising that we are all unique, respecting our differences and taking tangible steps every day to make sure the people around us feel included. "My priority is to build awareness around DEI within Harbour and to create the infrastructure to make it part and parcel of everything we do. That means formulating a strategy that works for us and then executing it," she explains.
Mavis was attracted to the role at Harbour because of the opportunity to join the team as we evolve our story. She feels Harbour is set apart by having a Board of Directors, CEO and Leadership Team who are all firmly committed to the DEI journey. One of the company's core values is integrity, which is something that she identifies closely with.
"Without integrity, who are we? It is fundamental to who we are as individuals. A person of respect will have respect for others, be direct and honest and make everyone around them feel safe to speak up," she says.
Mavis loves meeting people, making new friends and acquaintances and doing her bit to make a difference in her own way. She is married and lives in rural Aberdeenshire with her husband, two sons and the family dog Ollie (a fox red Labrador).
Her favourite film is the 2018 Marvel movie, Black Panther where she stood up clapping with tears in her eyes and so much pride in her African heritage when the film finished at the cinema – "much to the embarrassment of my kids," she adds laughing. To her, the movie showed an alternative reality where black people can also be superheroes – a lesson that's there for everyone. It's not just about race, but also about what happens when you allow people to shine.
"I come to work every day with a spring in my step knowing I am one step closer to promoting an inclusive culture at Harbour. If you are not afraid to be yourself and want to be part of a team that will support you to reach your potential, I would recommend working here. This really is a company where you can be yourself and can truly shine."
Harbour is proud of its open, inclusive and welcoming culture. Where difference and uniqueness are celebrated, and everyone is supported to be themselves and fulfil their greatest potential.
#WeAreHarbourEnergy