We provide social-investment contributions and charitable support to organisations and other good causes in line with our strategy and core values, as set out in our Social Investment and Charitable Donations Standard.
We aim to provide support to the local communities where we operate with a focus on the areas of education, affordable energy, health and safety, and the environment. We encourage our employees to support their local communities through volunteering.
In 2022, we provided a total of $1.5 million in charitable donations and social investments. We were particularly conscious of the impact of increased inflation and rising energy costs on our UK employees. To help our employees at this challenging time, we made a one-off cost-of-living payment to all UK-based employees below senior management level and to core contractors. Recipients of the payment had the opportunity to donate part or all of it to charity.
Our largest corporate charitable gift was to National Energy Action (NEA). NEA is the national fuel poverty and energy efficiency charity, working to improve the lives of people in fuel poverty, campaigning to ensure everyone can afford to live in a warm and safe home.
Indonesia mangrove plantation
As part of Harbour's Global HSES Day in Indonesia, members of the local community and high school students joined staff in our mangrove planting project. This resulted in an additional 1,000 mangrove seedlings being successfuly planted in Temburun Village, which forms part of the Anambas Islands Regency archipelago, Indonesia. The event included educational sessions that highlighted the importance of Harbour's plantation programmes, and their function in meeting global net zero targets.
Vietnam mangrove plantation
In Vietnam, we invest time and capital in the Ca Mau Forest Plantation Project in partnership with the Gaia Nature Conservation not-for-profit organisation. The project seeks to mitigate climate change, conserve biodiversity and improve the life quality of local people through reforesting 40 hectares of mangrove forest in Cape Ca Mau National Park on the southern peninsula of Vietnam. The project will run through to at least 2028 and in addition to sequestering CO2 from the atmosphere, it will improve the other ecosystem services of the site including biodiversity and inland storm protection, combat saltwater intrusion and create a new habitat for wildlife.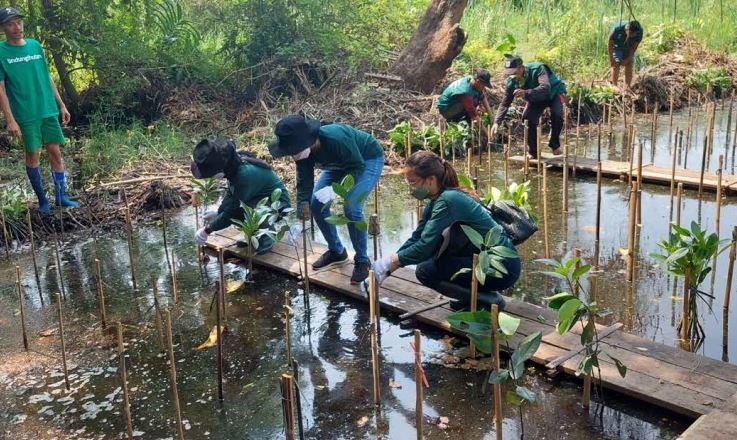 STEM in the Pipeline
Harbour is one of the sponsors of the STEM in the Pipeline senior schools programme, run by the charity TechFest in Aberdeen. As part of the programme, we supply mentors to local schools who compete in teams on a variety of oil and gas challenges.
STEM in the Pipeline 2022 participants. Photo courtesy of TechFest.
One of the projects supported by Harbour is the River Dee Trust's education programme. Based in Aberdeenshire in Scotland, the scheme focuses on connecting young people to the River Dee through fun and hands on activities linked to the Curriculum for Excellence.
The River Dee Trust is a community based charitable company set up in 1998 to improve our knowledge of the ecology and associated fish stocks of the River Dee, so it can achieve practical improvements and restoration of the river and the wildlife it supports.
It also seeks to provide educational information to schools, organisations and individuals living in Northeast of Scotland. The River Dee is one of the most famous salmon rivers in the world. More information: www.riverdee.org.uk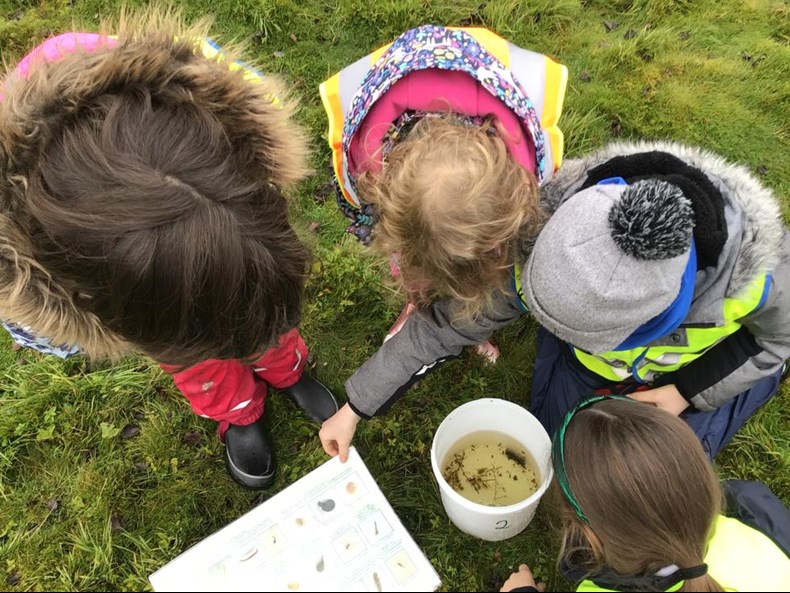 Photograph courtesy of The River Dee Trust.
Harbour Energy is sponsor of the 5k event at Run Balmoral, where more than 5,000 people take part in a varied programme of races on the Balmoral Estate in Royal Deeside, Scotland over a weekend in April.
The wellbeing of our people is important to us and we encourage our staff to keep fit and participate in the event with many running in aid of local charities.
More information: www.runbalmoral.com
Watch our video compilation from Balmoral Run 2022.