Indonesia
9 kboepd (2022 production)
The Natuna Sea Block A fields averaged 9 kboepd in 2022 (2021: 8 kboepd). The increase on 2021 was driven by a full year's contribution from the fields offset by natural decline from the existing well stock. In the fourth quarter of 2022, we completed a jack-up rig campaign, comprising a workover and infill well helping to increase delivery from the fields. We continued to see strong demand for our gas with offtake above our take-or-pay levels. Pricing of Indonesian gas also remained strong during the year, averaging $14/mmscf.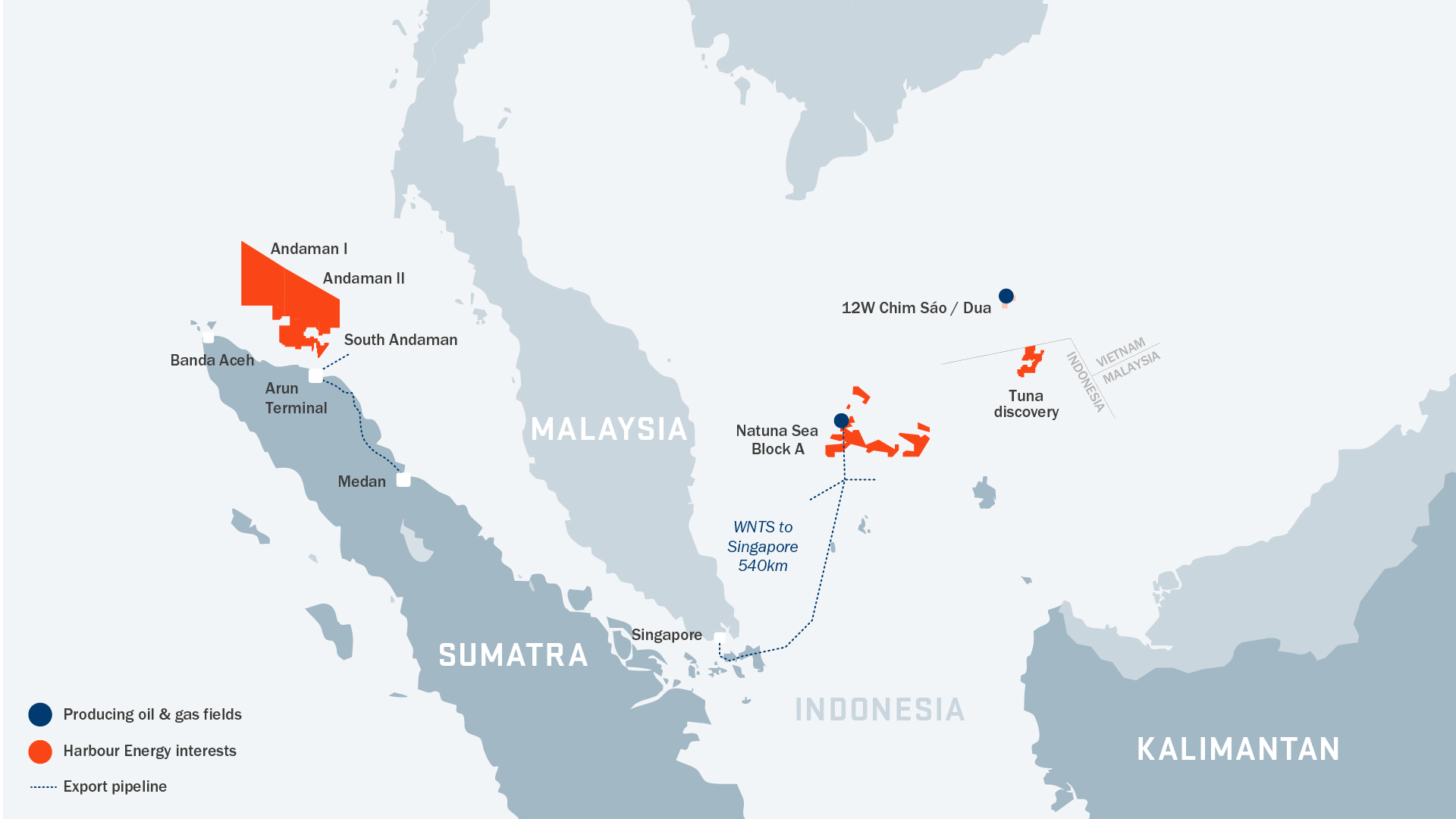 Tuna - 50.0% operated
In October 2022, Harbour submitted an initial plan of development (POD) to the government with a view to moving to FEED once the POD had been approved. While the Indonesian Government approved the POD in December, subsequent progress has been impacted by EU and UK sanctions which limit our ability as operator to provide certain services to Russian entities, including our Russian partner in the Tuna licence. As a result, Harbour is now assessing its options with regards to Tuna to enable the project to progress.
Our operated interest in the Tuna offshore block close to the Indonesian Vietnam maritime border was awarded by the Indonesian government in March 2007. The c. 100 mmboe Tuna field was discovered in April 2014 and was successfully appraised via a two well programme in 2021.
Andaman - 40.0% operated (Andaman II)
Harbour Energy has built a material position in the Andaman Sea, offshore Aceh, with interests in Andaman I, Andaman II and South Andaman.
In July 2022 we, together with our partners Mubadala and BP, made a material gas discovery on our Andaman II licence with the play-opening Timpan-1 well. In December 2022, we secured the return of the West Capella drill ship to drill at least three exploration and appraisal wells across our Andaman acreage in 2023 and 2024. This programme is scheduled to commence in the second half of the year with the drilling of the amplitude supported Layaran prospect on Mubadala's operated Andaman South licence, in which we have a 20 per cent interest, followed by the Halwa prospect to the north east of Timpan and the Gayo prospect to the southeast of Timpan on our operated Andaman II licence. We also completed a 3D seismic survey over the eastern part of our Andaman II licence in the fourth quarter of 2022 to firm up prospectivity that was identified on the existing 2D seismic data.
For full details of our licence interests in Indonesia, see our worldwide licence interests page.